LITE and cleaner version: Main Page
Hi, welcome in Candadia! To get more benefits, like being popular, please make your own character! What? You have it already? Just turn it into a Candadian! Already do both? Good luck!

Welcome to Candadia wiki! And, welcome for new fairies here!
We currently have 29 pages. If you are a new fairy, or a new editor here, please read the rules. It's easy, you know!
Need help?

You always want to be up to date, right? Just keep going on with the latest news!

Jewelpet Peaceful Candadia is a series made by Sabrina Hanayume about her life story to find her parents in Candadia. This series used Yasmin, Twinkle and Rosie as the main Jewelpets, with their partners Sabrina, Stella, and Lilly. This also tells their mission to save Candadia from the evil, Khristian Alcantara's attack on Candadia without a reason.
This series are made by story written in this wiki. There are 52 episodes here, the same as other seasons. Yasmin, Twinkle and Rosie replaces Ruby, Garnet and Sapphie because they are prisoned by Khristian Alcantara. Jewelpet Peaceful Candadia is also planning to have their very own anime.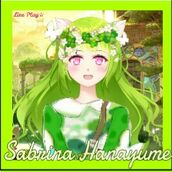 Our featured character is Sabrina Hanayume!
Sabrina Hanayume is the Princess of Candadia. She is a human partner of Yasmin. Sabrina is also a Cocoa Fairy, the strongest fairy type in Candadia. Her other powers are Plant Manipulation, Water Manipulation and Light Manipulation. She gets that power since married with the Jewelpet, Herman's permanent Miracle Change.
Since Jewelpet Peaceful Candadia is made by stories in this wiki, Sabrina's voice actor is unknown. But, if Jewelpet Peaceful Candadia has released its anime, her voice actor is Afifah Khairunnisa. Sabrina Hanayume is also having an official account named Candadian Angel~.

Who is your favorite main character?
What Fairy Type would you be?
Community content is available under
CC-BY-SA
unless otherwise noted.